With Recep Tayyip Erdoğan, Turkey's president, currently doing his best to discourage any positive sentiment towards his country, it's worth looking at how demand for Turkey's tourism markets have changed over the years.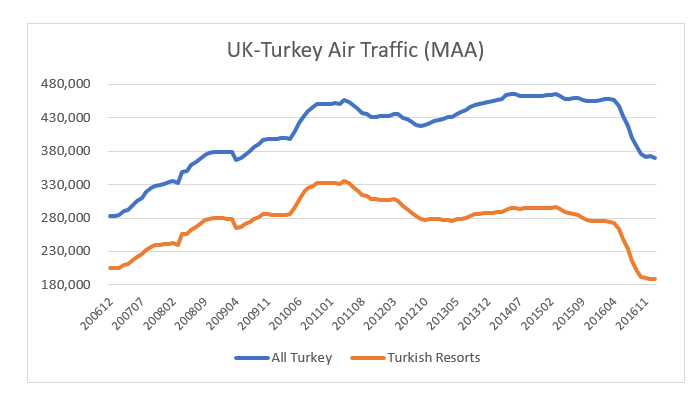 In this figure, we can see that tourism demand, having grown strongly throughout the recession, had been in gentle decline since 2011 but fell precipitously during 2016. By contrast, flows between the UK and Istanbul only (a major source for business and transit passengers as well as city breaks) more than doubled between 200 and 2016 and have only tailed off slightly.
If we compare Turkish resort flows (e.g. Dalaman and Bodrum) with resorts elsewhere with direct flights from the UK, we can see the results below.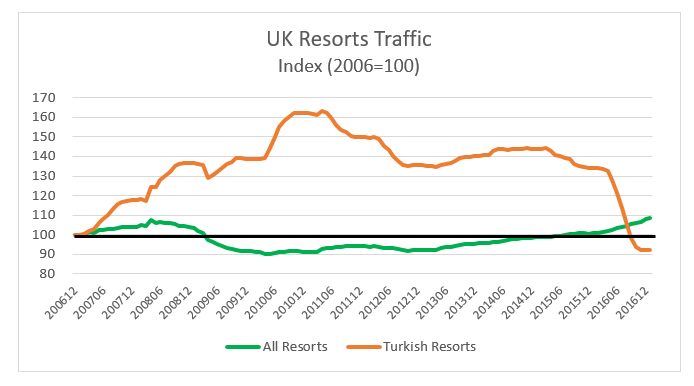 Turkey saw tremendous growth in the UK tourism market compared to other resorts and was not affected by the recession of 2009 and 2010. This second chart shows, however, that not only does Turkey have less tourism demand from the UK than 10 years ago , but the overall holiday resort market from the UK has grown by some 10% in the same period.